Department of Education Secretary Leonor Briones said that the officials in a private school in Bicol faces possible sanctions after a video and pictures of them burning students' bags trended on the internet.
Photos of burned bags, including personal items of students had been posted on Twitter by user @Surrearlism identified as Earl Vincent Cañaveral. There was also a video posted with a man lecturing the student as 'violators' and asking them if they were 'stupid.'
The man who was on the video was allegedly identified as Alexander James Jaucian, school head of Bicol Central Academy. According to Cañaveral, the incident happened during the school's "Tasumaki Day" when the school requires students to dress in formal attire and instructed to only bring small bags. However, some students brought big bags for their change of clothing, which triggered the bag burning.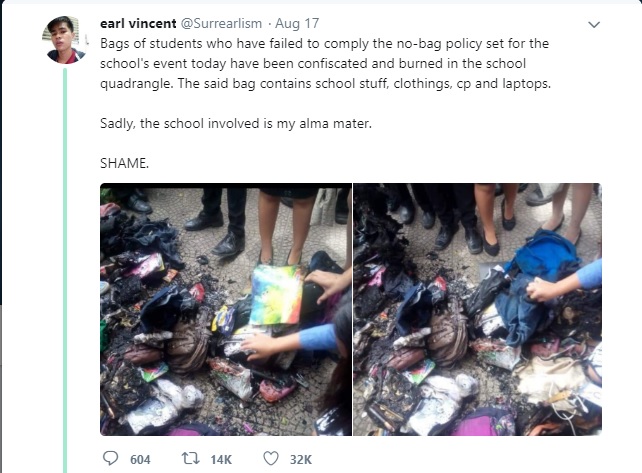 In a phone interview with Manila Bulletin, Briones said the Regional Director of Region 5, Gilbert Sadsad has already been instructed to send a partial report of the incident since they are still gathering all circumstances.
"We have regulation at present, we have a policy against psychological as well physical punishment of children because they will be traumatized," Briones explained.
She explained that DepEd is already looking into possible steps that can be taken to impose sanctions if it will be established that the principal was the one who triggered the incident.
One of the possibilities is to cancel the license or permit to operate of the school. The financial assistance given to the school will also be reviewed if it is under the the Educational Service Contracting scheme (ESC) which is a program provided for by Republic Act 8545 (amending R.A. 6728), or the "Expanded Government Assistance to Students and Teachers in Private Education" (GASTPE).
The Education Secretary also assured the students and their parents that it will be thoroughly investigated.
"We want to assure parents that we will act justly and we will act fairly so we are getting the information," Briones said. "For the students, we don't know yet how many are affected," she added.
She also reminded that DepEd has a clear policy against physical or psychological punishment of learners and children.
Source: Manila Bulletin