Students who are sent to Pittsburgh, Pennsylvania to be the delegates of the Philippines to the Intel International Science and Engineering Fair (ISEF) 2018 that was held last May 13-19 came home carrying a triumphant smiles as they bring with them major awards that they won in the prestigious ISEF that consist of over 1,802 participants from 81 different countries.
10 Junior and Senior High School (JHS and SHS) students was sent to the competition to carry the flag of the Philippines and rise above various challenges posed by over a thousand competitors.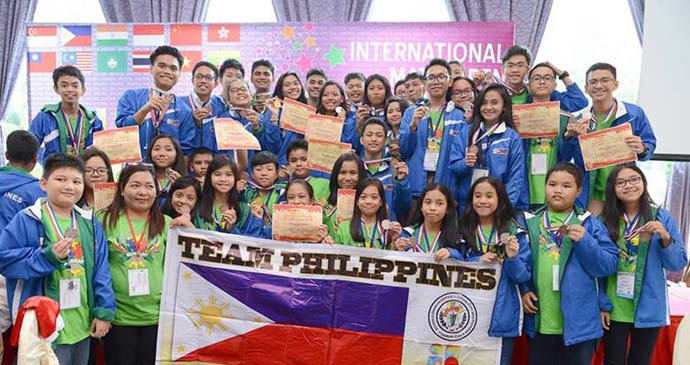 Photo credit: Manila Bulletin
This massive success was recognized by the Department of Education Senior Education Program Specialist for Science, Annaliza Chan as she proudly announced the delegate's success and took the opportunity to acknowledge the effectiveness of the K to 12 curricula as proved by the competition. She also added that with this success, the Philippines might be able to come to a massive breakthrough in the field of science and engineering with the continuation of the K to 12 programs.
Here are the delegates that brought home another honor for the Philippines:
1. Joscel Kent Manzanero, Keith Russel Cadores, and Eugene Rivera – Won the Second Award in the Energy: Physical category for their Design and Development of Solar- Tracking Arduino- Rooted PV Panels. These proud students of Camarines Sur National High School also received a monetary reward worth 1,500 USD
2. Elaine Nicole Saquin and Randy Molejona Jr. of Iloilo National High School (INHS) – Won Third Place in the Earth and Environmental Sciences category for their discovery on Biosorption of Manganese Mine Effluents Using Crude Chitin from Shell Wastes of the Philippine Bivalves and was given a monetary reward of 1,000 USD.
3. Pete Gabriel Ledesma of Iloilo National High School (INHS) – bagged the Fourth Award in the Materials Science category for his research on the Phytoreductive- Hydrothermal Synthesis of Polythyene Glycol- coated Magnetic Iron Oxide Nanoparticles for Drug Delivery Applications and was given a monetary reward of 500 USD.
4. Leann Patrice Ganzon and Anne Nicole Occena of INHS who worked on Garcinia binucao Fruit and Leaf: Phytochemicals-Mediated Antioxidant, Alpha-Amylase and Alpha-Glucosidase Enzyme Inhibitors.
5. Adrian Maglasang from the proud City of Bogo Science and Arts Academy in Cebu was commended for his studies on the Propulsion Performance Evaluation of a Lego-Based Carangiform Mechanism for a Prototype Robotic Fish Unmanned Underwater Vehicle
6. Roehann Mykael Zabat who represented Juan R. Liwag Memorial School in Nueva Ecija who analyzed the Reducing Dopaminergic Neurodegeneration and Motor Dysfunction Using Crude Ethanolic Bamboo (Bambusa vulgaris) Leaf Extract on a Transgenic Caenorhabditis elegans Model of Parkinson's Disease.
Source: Manila Bulletin