DepEd Memo 392 mandates school teachers not to give assignments or any form of homework during weekends. This controversial memorandum has drawn flak from the public school educators.
Signed by Education Secretary Armin Luistro advised teachers to limit giving of homework and assignments. This is to give children the chance to have more quality time with their parents and loved ones. The can relax and rest at home for the rest of the weekends.
He added that children must not be burdened with the thought of doing lots of homework. They must enjoy their childhood.
This is contrary to the Teachers' Dignity Coalition's point of view. According to TDC's president Benjo Basas, the memorandum is unnecessary. It actually violates the educators' academic freedom to give the students the best education.
He said that as educators, they know the capacity of their students and how long it will take to finish their homework. It is to help them develop self-discipline and not make their lives harder. Students can learn time management and become responsible.
Furthermore, he said that teachers give more homework on Fridays because they have more free time during the weekends. Parents can even use homework to spend quality time with their kids. He explained that there are two main purposes for assignments: to review previews lessons or to get ready for a new one.
GUIDELINES ON GIVING HOMEWORK OR ASSIGNMENTS TO ALL PUBLIC ELEMENTARY SCHOOL PUPILS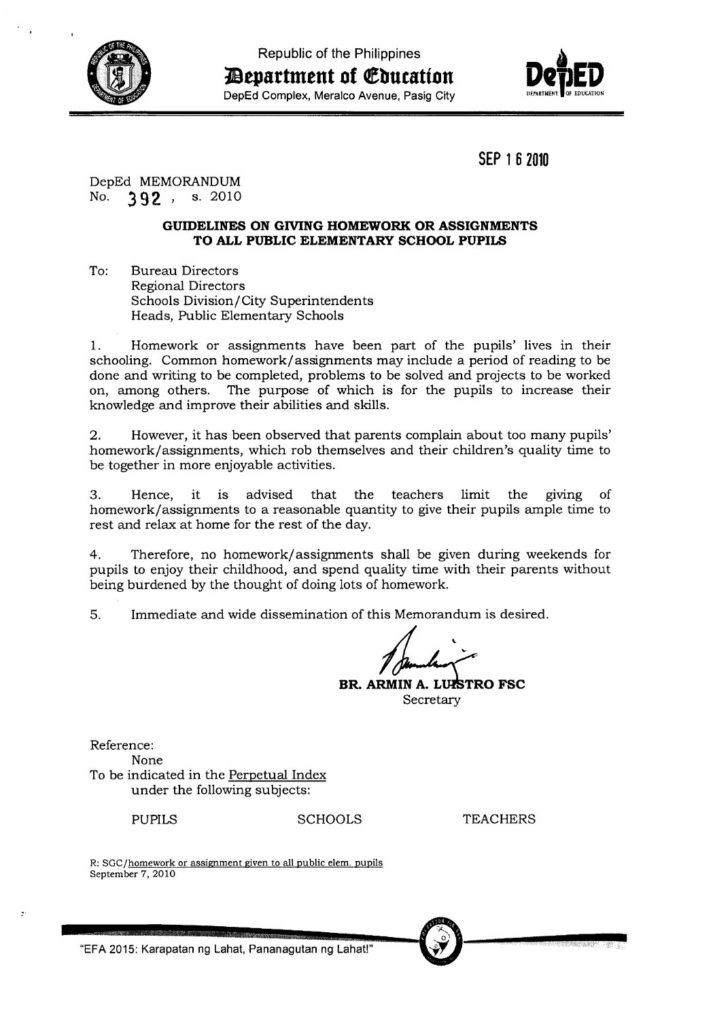 Director of the DepEd Bureau of Elementary Education, Yolanda Quijano admitted that the memorandum was signed in after they have received complaints from a number of parents about teachers who were giving too much homework. It is a part of the initiative to make schools child-friendly.
She further added that they want kids to enjoy their time. Study time should be a habit and must not be strictly required during the weekends. Homework can bring opposite effect to the good education. Source