The Department of Science and Technology-Science Education Institute (DOST-SEI) increased the number of slots in DOST's scholarship program. The development in scholarship programs includes a higher monthly stipend rate for every scholar.
The premier science scholarship program is now back after the two-year hiatus due to the implementation of the K-12 Curriculum. Under the RA 7687, the Scholarship Program are granted to students who belong to economically disadvantaged families.
DOST Secretary Fortunato de la Peña shared that it is time to get more interest from the public regarding its scholarship programs. Recently, the 8,994 new qualifiers are named to avail their undergraduate scholarship.
This is said to be the biggest batch since 1958. It surpassed 2015's 5,303 qualifiers by 69.6%. DOST-SEI Director Josette Biyo hopes that the number of scholars will increase to 33,256 by 2019.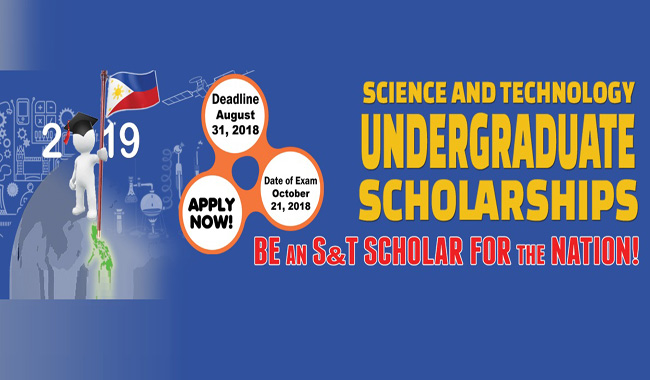 The named DOST undergraduate scholars will receive an increased monthly stipend of P7,000 per month. This is in addition to the P40,000 per year for the tuition and other school fees. They will also get a book allowance worth of P10,000 and a one-time P1,000 uniform allowance. Add to that, they are also entitled to get one economy-class round trip fare per year if they are studying outside of their home province.
Related: Scholarship for Medical Studies
The new developments for the DOST scholarship programs aim to attract more scholars and graduates who will eventually work for the country in the fields of science and technology. S&T professionals are highly in-demand in addressing a number of national concerns. De la Peña and Biyo are now working with Ruben James Rosal and John Kenneth Malilay who were top scholar-graduates of the DOST.
The interested Grade 12 students are now are encouraged to submit their applications for the 2019 DOST-SEI Undergraduate Science and Technology Scholarship until August 31, 2018. The examinations will be conducted on October 21, 2018. Check on how to apply here: DOST-SEI
Related: How to apply for CHED scholarship