The Department of Education or DepEd issued Department Order 13, series of 2018 also known as the Implementing Guidelines on the Conduct of Remedial and Advancement Classess During Summer for the K to 12 Basic Education Program that is in accordance with the implementation of the Republic Act No. 10533 also known as the Enhanced Basic Education Act of 2013.
The DO 13, s. 2018 was signed by the DepEd Education Secretary Leonor Magtolis Briones whom under her administration, the Department of Education received the highest approval rating for the past 2 years based on the latest Pulse Asia's Pulso ng Bayan Survey that was conducted last March 24 and March 28.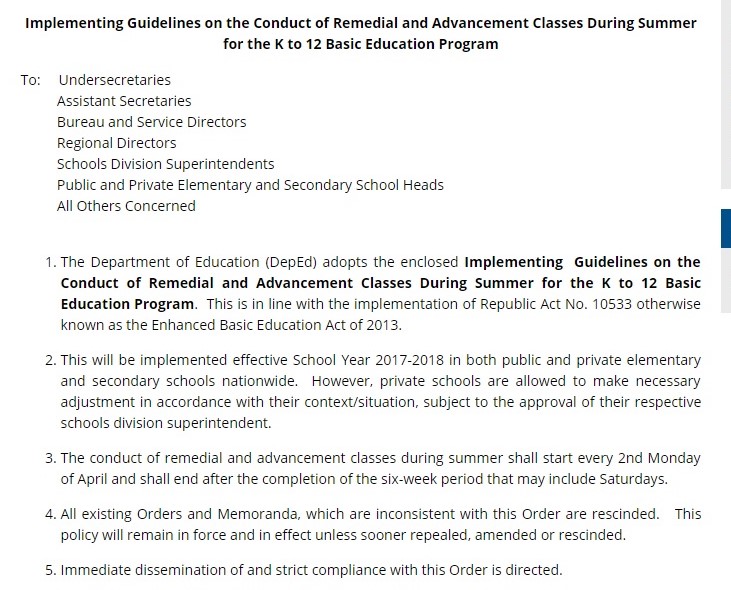 It was also under her administration that the DepEd was able to reduce the highest number of the out of school youths and adults by launching program such as Balik Aral to further involve the drop outs in going back to school by giving them quality basic education.
This order aims to set the remedial and advancement classes every summer to start every 2nd Monday of April and shall only last until after the completion of the six- week period and that means it also includes Saturdays.
This DO was published on the 23rd of March 2018 and will be implemented effective Academic Year 2017- 2018 and shall be implemented on both public and private elementary schools as well as private and public high schools all over the country.
However, private schools may conduct necessary adjustments according to their context or situation as long as they ask for the approval of their respective schools division superintendent. This Order also repeal, amended, and or rescinded all existing Orders and Memoranda that are inconsistent with this Order. This policy will remain in full effect unless otherwise revised or repealed.
Also, in the DO 13, s. 2018, Immediate dissemination of and strict compliance with the order is directed.
Source: DepEd