The Department of Education has appealed for higher, tax-free payment and travel allowance for teachers who will serve in the upcoming electoral board.
It is no longer mandatory for teachers to serve in the electoral board, but some encountered difficulty getting their pay from previous elections.
According to the law, the honoraria amounts to Php6,000 for the chairperson of the electoral board; Php5,000 for each board members; Php4000 for every DepEd Supervisor and Php2,000 for support staff.
Education Secretary Leonor Briones called the attention of the Commission on Election (Comelec) to prioritize the welfare and protection of teachers who will volunteer in the barangay elections this May 14.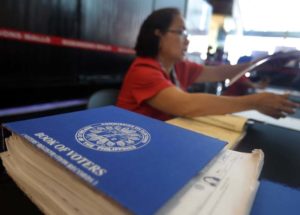 "DepEd (Department of Education) teachers and personnel have long been at the forefront of every electoral exercise in the country; with their immense experience in carrying out this enormous task in clustered precincts of huge populations, we deem that evaluation and discussion on the possible increase in honoraria and allowance are just and necessary," says Briones in a press statement.
Aside from a higher honoraria, Briones also pointed out that the allowance should also be tax-free.
Prior to the implementation of Republic Act 10756, also known as the Election Service Reform Act (ESRA), no poll honoraria were ever subjected to income tax.
The said law has improved the compensation package of volunteer-teachers. Briones said "it is only fitting that they truly benefit from their hard-earned compensation."
ESRA mandates higher honoraria, additional travel allowance, service credits, legal indemnification package, medical assistance, and death benefit for teachers and personnel who will volunteer during elections.
The Education Secretary also requested that Comelec authorize a disbursing officer who will be allowed to expend cash advances for medical expenses for teachers who are going to serve in the Electoral Boards.
It may potentially replace the common process of medical reimbursement and help teachers who may need immediate hospital and/or admission.
Briones also called for additional two days service credits on top of the five days service credit mandated by ESRA in view of the manual conduct of elections.
Source: Inquirer– DepEd chief calls for higher, tax-free pay for teachers in village polls