Department of Education (DepEd) allowed private schools in the National Capital Region (NCR) to raise their tuition by 5 percent up to 15 percent his upcoming school year 2018. A total of 170 schools were allowed to implement this tuition hike especially schools that are located in Quezon City and Manila.
According to the director of Department of Education- National Capital Region (DepEd-NCR) Wilfredo Cabral, There were some schools who applied for a tuition hike but they proposed a raise higher than 15 percent so they did not grant them the permission to raise their tuition fees. The DepEd-NCR returned their request saying that the department will only approve request for tuition hike only up to 15 percent to make sure that the tuition fee n private schools will not be exorbitant.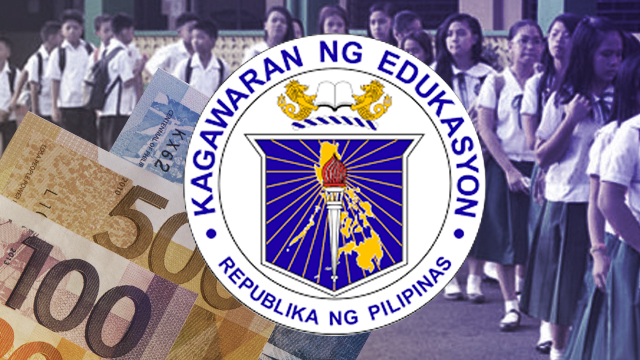 The DepEd-NCR has deployed several private school supervisors. The department also made sure that in the current setup of the department, they have the quality assurance division of the regional office and assigned one division to look at the affairs of private schools.
According to the existing DepEd's guidelines, the 70 percent of the increase in the tuition hike will go to additional wage and benefits of the school faculty, staff, and personnel. The other 20 percent is for school modernization and facilities, and the remaining 10 percent shall be allocated to return of investment. Cabral assured that the DepEd will monitor private schools to make sure that the guideline is being followed.
Below is the DepEd's list of 170 schools that were allowed to implement the tuition hike for the school year 2018-2019. Among the 170 schools in NCR, 36 are located in Manila while 51 are located in the Quezon City. There will be no school in Navotas City that will be implementing the increase.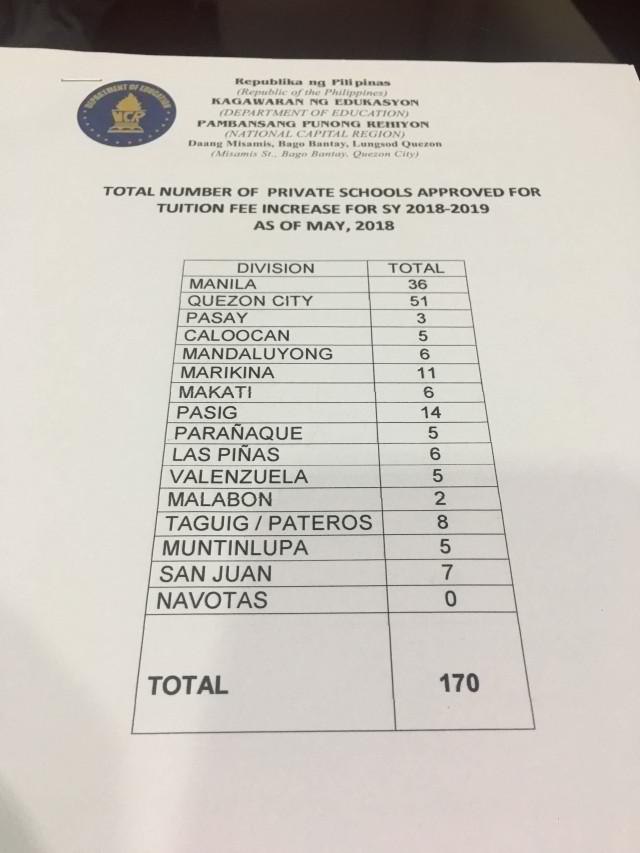 Manila – 36      Marikina – 11     Valenzuela – 5        Navotas – 0
Quezon City – 51       Makati – 6                    Malabon – 2
Pasay – 3                  Pasig – 14                    Taguig/Pateros – 8
Caloocan – 5              Paranaque – 5              Muntinlupa – 5
Mandaluyong – 6         Las Pinas – 6               San Juan – 7
Source: GMA