Education stakeholders were called by the Department of Education (DepEd) to participate anew in the annual school maintenance activities under "Brigada Eskwela 2017" which will be held starting today until May 20, 2017.
Education Secretary Leonor Briones said that aside from school maintenance activities, other efforts like the anti-illegal drug use campaign lectures, distribution of pencils gathered under the One Million Lapis Campaign, and opening of the Alternative Learning System (ALS) registration desk will also be conducted for this year's Brigada Eskwela during the national kick-off in Cebu City.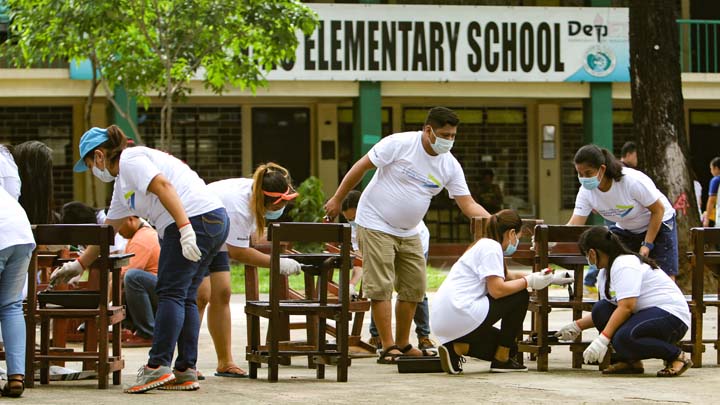 "Many of our children are still unable to join the formal learning system. With all its improvements and opportunities, meron pa ring hindi nakakaabot dahil sa poverty, school's distance, early marriages, etc.," Briones said, talking about the opening of the ALS registration desk.
The DepEd chief noted that they are expecting around 500 to 1,000 Brigada volunteers from the community in Cebu City to register in the ALS registration desk.
Meanwhile, other activities such as earthquake and fire drills, Rabies Awareness Campaign, and tree/vegetable planting will be conducted in selected schools nationwide.
Brigada Eskwela
Brigada Eskwela focuses on the improvement of the surroundings of the school to make it safer for the learners.
Assistant Secretary Tonisito Umali recalled how this effort evolved since its first implementation.
"Noong 2003, hindi pa mandatory para sa ating paaralan ang pagsali sa Brigada. Only around 30 percent of our schools participated at that time. But in 2007, it increased to 100 percent school voluntary participation," he shared.
Such increase in school participation, noting its non-mandatory status then, led to the issuance of a Department Order in 2008 which enjoined all DepEd schools to participate yearly in the Brigada Eskwela activities.
Umali also cited the increase in the generated resources from education stakeholders.
It was disclosed that the generated resources and support in 2012 amounting to P1,519,575,657.13 has increased to P7,263,949,535.83 in 2016.
25 million students
DepEd is expecting around 25 million students, both from public and private, to troop to schools nationwide this coming school year (SY) 2017-2018.
DepEd Undersecretary for Planning and Field Operations Jesus Mateo said the projected 25 million enrollment this coming school year include kinder, elementary, junior and senior high school students from both public and private schools.
"Around 25 million is the projected enrolment coming from public and private schools," Mateo said. This will include the 1.5 million Grade 11 enrollees last school year 2016-2017. However, he noted that not 100 percent of the SHS enrollees last SY will proceed to Grade 12 this school year. "This will depend on the passing rate of the students," he said.
Based on DepEd's data, enrolment for both public and private schools last SY was at 24,986,097. This includes kinder, elementary, secondary junior high school and senior high school students.